Feast Day Celebration
St Sebastian
St Sebastian's Feast day is celebrated on the 20th January and we at St Sebastian's Catholic Primary School mark the occasion with a Feast day Celebration Mass. Every January, our year 4 class dramatically re-enact the story of St Sebastian's persecuted life up until his death. The whole school event is often celebrated in our school hall and is led by Father Mark. Family, friends and members of the community are all invited to come along and celebrate the life of St Sebastian with us. Why not join us next year on January the 20th to celebrate St Sebastian's feast day, we would be delighted to welcome you along.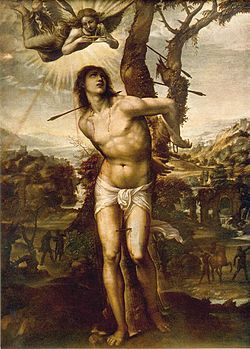 The Life of St Sebastian
Saint Sebastian (died c. 288) was an early Christian saint and martyr. He was killed during the Roman emperor Diocletian's persecution of Christians. He is commonly depicted in art and literature tied to a post or tree and shot with arrows. Despite this being the most common artistic depiction of Sebastian, he was, according to legend, rescued and healed by Irene of Rome. Shortly afterwards he criticized Diocletian in person and as a result was clubbed to death. He is venerated in the Catholic and Orthodox Churches.
St Sebastian's Feast Day January 2016
This year 2016 was a very special celebration as we were commemorating the first Mass said at St Sebastian's church 100 years ago. The parish itself celebrated 100 years in 1904 when the first stone was laid but it took another 12 years before the church was completed and Mass was finally said in the church.
The parish community invited Archbishop Malcolm and several priests to concelebrate mass with Fr Mark. The children from the school and other groups designed and decorated boards celebrating all the aspects of the Parish. The scout groups from St. Sebastian's and St. Cuthbert's joined the parish community, the school and many past parishioners in a beautiful Mass..
Afterwards the Archbishop blessed the new meeting room in St Sebastian's presbytery and everyone was invited back to the L'Arche community next door where everyone was offered refreshments. This building was originally the school so many of the past parishioners were pleased to be able to look around.